Rochester, NY – January 7, 2014 – HIGHPOWER Validation Testing & Lab Services Inc. (HIGHPOWER Labs) is announcing the addition of two new pieces of equipment to assist medical device manufacturers in validating their device cleaning protocols. Since moving into their newly renovated 16,000 sq. ft. facility in 2012, HIGHPOWER Labs has more than doubled the space and equipment utilized in their device cleaning validation program.
"Many people don't realize that our lab has been involved in medical device cleaning studies for almost 15 years," said HIGHPOWER Labs President, Gary Socola. The additional U.S. Food and Drug Administration (FDA) device cleaning requirements have many medical device manufacturers seeking data which was notnecessarily required from them in the past. To keep up with customer demands and stay ahead of the curve, HIGHPOWER decided to upgrade their device cleaning program. "We now have three full-size mechanical washer disinfectors and have added a state of the art 'Sonic Irrigator' which is manufactured by Medisafe America," stated Socola. Mechanical cleaning studies have been increasing, as are the manual cleaning studies being requested by device manufacturers. HIGHPOWER sees this trend continuing.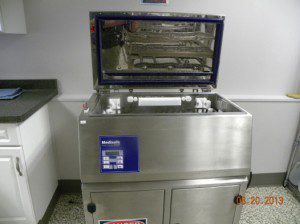 "We are really excited about our increased cleaning capabilities and especially our Medisafe PCF Sonic Irrigator," said Don Tumminelli, Manager of Validation and Testing Services at HIGHPOWER Labs. "Many people associate its use with the cleaning of robotic instruments, but the machine itself can do so much more. The PCF is actually a sonic, an irrigator, a washer, and a disinfector. It can be used as a sonic only, a sonic irrigator, or a sonic irrigator-washer disinfector, as is currently being done with certain robotic instruments. In a facility such as a surgery center, it can do it all." Besides cleaning MIS instruments, the PCF is being used successfully in ophthalmic, orthopedics and many other facets of medical device cleaning.
HIGHPOWER has also ordered a second Hamo washer disinfector to join the existing unit and the lab's STERIS 444. "Hamo washers have fully programmable parameters which give us more flexibility to meet the needs of both our European and North American customers," said Tumminelli. "Most of our customers require protein and total organic carbon markers for their studies but we are also looking to add hemoglobin in the near future."
Testing performed by HIGHPOWER Labs supports the design, development and production of safe reusable medical devices used in healthcare facilities around the world. HIGHPOWER is known for high quality services and attention to detail, therefore the increased capacity of their cleaning program should allow more cleaning studies to be performed for customers in a shorter period of time.
To find out more about HIGHPOWER Labs and their available services, please contact HIGHPOWER Validation Testing & Lab Services Inc, located at 125 Highpower Road, Rochester, NY 14623 USA. • Ph: (585) 743-1930 • Fax: (585) 697-1506 • Toll Free: (888) 722-1529 • E-mail: info@highpowervtls.com or by visiting the internet at www.highpowervtls.com.