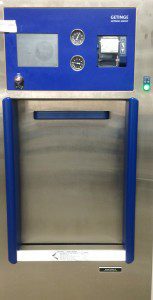 Rochester, NY- June 10th, 2015 – HIGHPOWER Validation Testing & Lab Services Inc. (HIGHPOWER Labs) is announcing the addition of a new state-of-the-art steam sterilizer manufactured by Getinge USA Inc. The new Getinge Model 553HC-E is used to validate the sterilization efficacy of reusable medical devices for device manufacturers seeking FDA 510k clearances for their device.
"Many people consider Rochester, NY to be the cradle of sterilization here in the U.S." said HIGHPOWER Labs President, Gary Socola. "Wilmot Castle & Company created one of the first steam sterilizers that was put into practical use by medical professionals over 100 years ago. Called the Rochester Steam Sterilizer in the early days it was sold to physicians and other professionals. We have one of these early sterilizers in a reception area." The Rochester Steam Sterilizer may no longer be in production but its quality lives on through its predecessor Getinge. "HIGHPOWER is lucky to have such a quality sterilizer manufacturer located just down the road from our laboratory. Getinge is known worldwide as a producer of quality products and services and we are proud to add one of their sterilizers to our lab", said Socola.
On March 17th of 2015, the FDA released a much-anticipated guidance document entitled, "Reprocessing Medical Devices in Health Care Settings: Validation Methods and Labeling Guidance for Industry and Food and Drug Administration Staff." Don Tumminelli, HIGHPOWER's Manager of Validation and Testing Services stated, "We've had a number of customers contact us about the new FDA guidance document and request quotes for additional testing. Because our Getinge sterilizer has very flexible programming, we can use it for customers seeking either three or four vacuum pulses in the steam vacuum cycles they want validated."
HIGHPOWER has recently added an additional mechanical washer and cleaning marker (hemoglobin) to their medical device cleaning program. Recent medical publications and FDA adverse event reports associate multidrug-resistant bacterial infections in patients who have undergone ERCP with reprocessed duoendoscopes, even when manufacturer's reprocessing instructions were followed correctly. Validating a reproducible, manual, or mechanical cleaning process for reusable medical devices has never been more important for device manufacturers and HIGHPOWER is here to provide guidance to our customers along the way.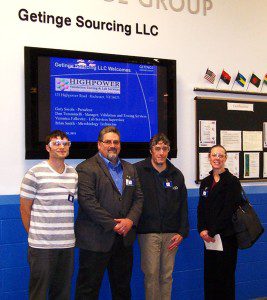 Testing performed by HIGHPOWER Labs supports the design, development, and production of safe reusable medical devices used in healthcare facilities around the world. HIGHPOWER is known for high quality services and attention to detail, and the increased capacity of their sterilization efficacy program should allow more flexibility to those customers seeking to validate either a US or European steam sterilization cycle.
To find out more about HIGHPOWER Labs and their available services, please contact HIGHPOWER Validation Testing & Lab Services Inc, located at 125 Highpower Road, Rochester, NY 14623 USA. • Phone: (585) 743-1930 • Fax: (585) 697-1506 • Toll Free: (888) 722-1529 • E-mail: info@highpowervtls.com or by visiting the internet at www.highpowervtls.com.