Rochester, NY- April 4th, 2017 – HIGHPOWER Validation Testing & Lab Services Inc. (HIGHPOWER Labs) hosted 30 visitors from the Delta Chapter of the Medical Device Reprocessing Association of Ontario on Saturday, April 1st at their corporate headquarters. The visit featured device reprocessing professionals from six different facilities located throughout the providence.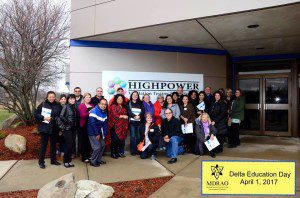 The day offered presentations by HIGHPOWER Labs' President, Gary Socola and Validation Manager, Donald Tumminelli on the "Validation of Reusable Medical Devices." Chuck Hughes, Retired Founder of SPSmedical Supply Corporation, also discussed a program on "Reprocessing Medical Devices – Issues & Solutions."
The group was given a tour of HIGHPOWER's state-of-the-Art laboratory and newly renovated low temperature sterilization laboratory. This enabled the healthcare professionals to get a first-hand learning experience about validation test protocols for cleaning, packaging, sterilization and storage of reusable medical devices.
"HIGHPOWER has a long history of education whether it be end users or the product development team. We can tailor a program for just about anyone in between", said Socola. "Combined, our staff has well over 100 years of experience in the field of reusable medical device validation and regulatory compliance."
MDRAO Delta Chapter President, Tony Leite, said that "the trip to HIGHPOWER was a great success. Our participants walked away with a better understanding of the testing and validation required before reusable instruments can touch the hands of an MDR technician. Our host's presentation was thorough and intriguing allowing for an opportunity for questions and answers. We will encourage our other chapters in Ontario to visit HIGHPOWER."
HIGHPOWER Labs, an A2LA ISO 17025 accredited facility (certificate no. 3718.01) has been providing exceptional device cleaning, packaging and sterilization validation services to our customers for 30 years, with every major FDA cleared sterilization process in-house, our scientists and technicians can assist device manufacturers in all of their validation needs.
To find out more about HIGHPOWER Labs and their available services, please contact HIGHPOWER Validation Testing & Lab Services Inc, located at 125 Highpower Road, Rochester, NY 14623 USA. • Ph: (585) 743-1930 • Fax: (585) 697-1506 • Toll Free: (888) 722-1529 • E-mail: esocola@highpowervtls.com or by visiting the internet at www.highpowervtls.com